History of the More Candy Company, Rochester, NY
A work in process
My name is Eric Cohen, and for a very brief period (1981-1982) of time I served as the Controller for the More Candy Company of Rochester, NY. Those few years are filled with memories of an incredible little company - unfortunately, a company in its last days - and an incredibly colorful group of people. I have not been able to find any history available on the Web of this amazing little company. I am hoping that I will hear from others whose lives were touched by this company in its almost 70 year lifespan (1916 - 1984). If you ate salt water taffy or lollipops purchased from Fanny Farmer, or fudge or hard candies from just about any department store or state fair carnie in the Northeast (and especially at Sibley's or McCurdy's) during that time, you may have tasted the deliciousness that was More Candy.
This historical effort is dedicated to Flury - a hero of this story; also to Audrey Lupes, who worked in the office, John Ventura, assistant plant manager, and others who helped make More unique during my stay, and to father and son David J. and Ray D. Cassaretti, who started and drove More for over 60 years.
You may have heard the name "Betty More", seen the brand "America's Richest Fudge", or just noticed a sign at a state fair that said "Home-made fudge" - well, it was often home-made at the More Candy Company factory at 54 Brown Street, in Rochester, NY, USA (now a lovely patch of grass right next to the Kodak Headquarters in Rochester, at the corner of Brown and State.)
Please help me build this history; send information to morecandy @ computercpa.com. I will continue to do some local research myself to get the facts straight and improve the information. I came in near the end of the 70 year history - albeit that was 30 years ago - so I hope there is help out there.
History
Basics
1916 MORE CANDY COMPANY DBA filed; facilities at 32 Mill Street, Rochester, NY (home for 50 years) - David J. Casaretti
1919 NYS Department of State Division of Corporations indicates a filing for More Candy Company Inc.
1928 The name BETTY MORE is trademarked
1934 Ray D. Casaretti joins More after graduating from Notre Dame University.
1936 The name MORE CANDY COMPANY is filed in Monroe County as a corporation
1966-1967 More Candy moves to 54 Brown Street, Rochester, NY
1970's Douglas Lee Rook, Senior, purchases More Candy Company
1983 The building and land are sold back to Eastman Kodak
1991 - Last activity in Monroe County records
1993 Corporation records show More Candy Company is dissolved
Monroe Country records show that a DBA was filed on 1/1/1916 and 1/1/1917 for MORE CANDY COMPANY, and the CORPORATION name MORE CANDY COMPANY INC was filed 1/1/1919; and in 1/1/1936 the corporation name MORE CANDY COMPANY was filed. On 1/1/1939, DBAs for BETTY MORE CANDY SHOPS were filed.
New York State Department of State Division of Corporations records show a filing January 20, 1919. The record shows the corporation dissolved March 24, 1993.
The US Patent and Trademark Office show that the Word Mark "Betty More" was first used in commerce 1/1/1928, and was filed/registered 6/7/1966 and 3/19/1968, respectively. The trademark was renewed 3/19/1988 - way after I thought operations ceased.
The trademark "America's Richest Fudge" was short-lived, during my time there - 5/8/1981 and abandoned in 1983.
Location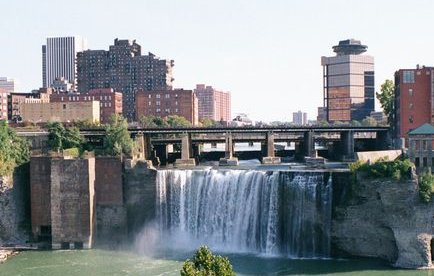 32 Mill Street from 1916 to 1966
When I worked there, I showed up at 54 Brown Street, Rochester, NY 14608. (The building is not there any more; in its place is now a lovely park-like area, next to Kodak Office.) The phone number was (716) 546-5771. (Rochester used to share its area code with Buffalo - the 716 area code was given completely over to Buffalo in 2001.)
The Plat maps from 1930 show a structure explicitly at 54 Brown street with no explicit company identification; it is right next to the Rochester Candy Works. a 1926 Plat map shows a structure in that area but not with the 54 Brown Street name used by Commercial Paper Box Co. But more on 54 Brown Street later.
Life for More Candy Company, obviously, did not begin at 54 Brown Street.
A 1916 Chamber of Commerce document lists an address for More, in its infancy, of 32 Mill Street, just a few blocks away from its last Brown Street location.
Mill Street is in tribute to the flour mills of Rochester. While 32 Mill, one door down from the corner of Mill and Market, isn't quite at the river, that whole area is part of the historic district where industry in Rochester - in fact, pre-Rochester, when it was Frankfort and then Rochesterville - first received its energy from the hydro power canal built in 1815 by the street's namesakes, Messers. Matthew and Francis Brown, and the water wheels powered by "Brown's Race" (said power canal, diverting water about to go over Rochester's High Falls). It was primarily about flour mills then (Rochester being first the "flour" and later the "flower" city.) Power from water was eventually replaced by steam power in 1892 and by electricity.
The 1919 NYS Department of Corporations record lists the mailing address for the corporate communications as the Hotel Richford.
Some pictures of map, first in 1926 without identification, and then updated from early days of Rochester through the 50s, showing the candy company at the 32 Mill Street address, can be seen here.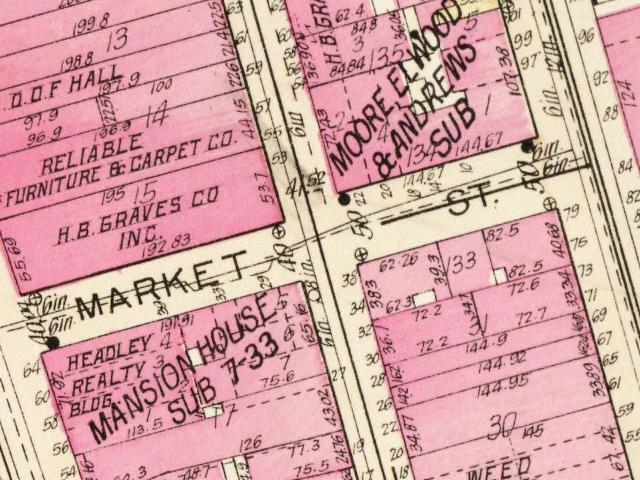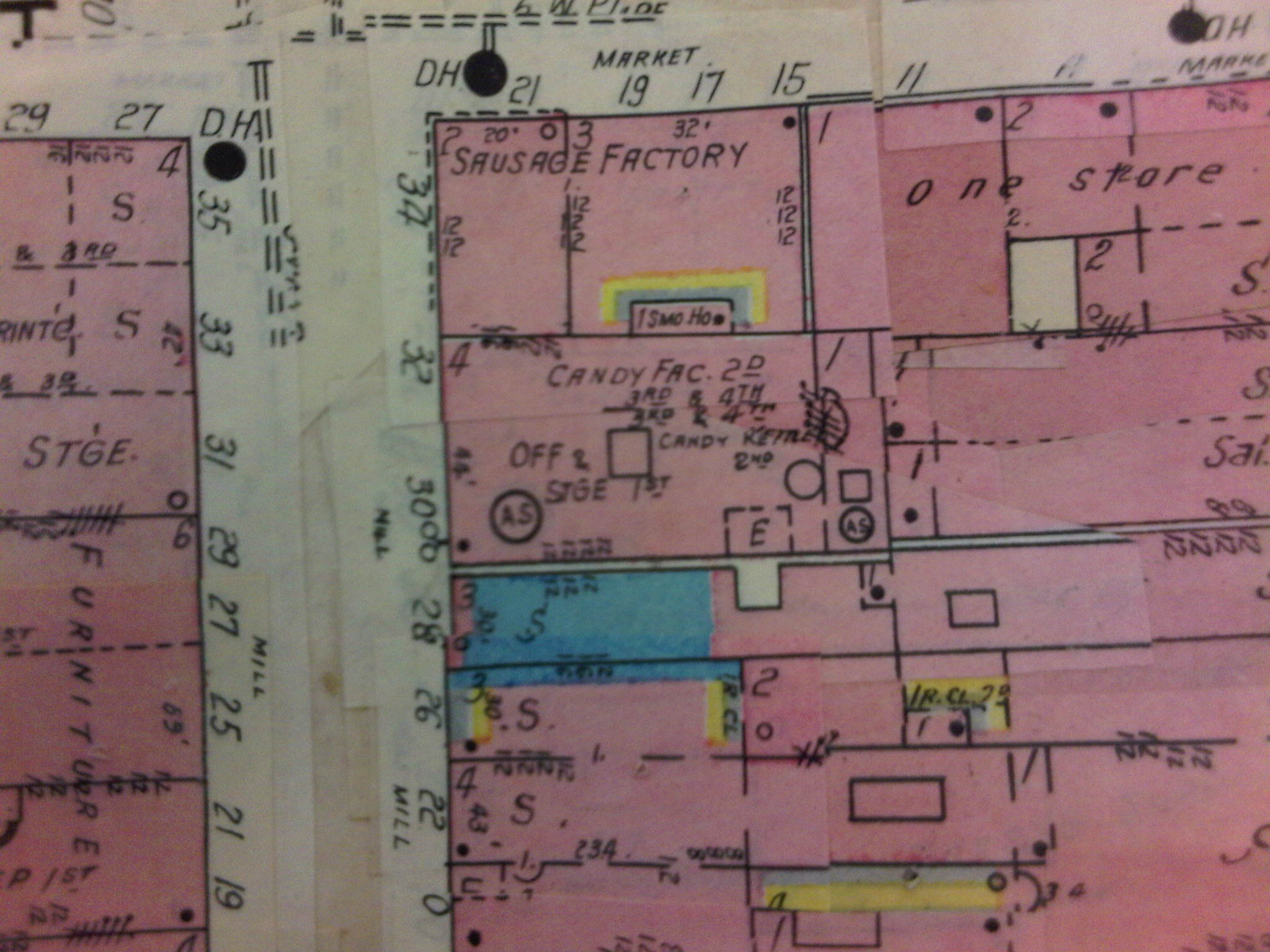 54 Brown Street (from 1967 to 1984)
According to the Polk Guides, More Candy moved to 54 Brown Street sometime between 1966 and 1967. (It was listed at 32 Mill Street in the 1966 listing and at 54 Brown Street in the 1967 listing.)
The corner of Brown and State is one of some local historical significance. From The Mary Parsons Project:
"For many years, the Parsons family owned the North American Hotel Property on State Street in downtown Rochester. William McCracken built the structure in 1820. All that time, the area was known as the village of Frankfort, just north of Rochesterville. Also known as the McCracken Tavern in those days, the North American Hotel played several roles. In addition to being a hotel and tavern, it was used as a political headquarters. Caucuses and elections were held there. Somewhere in the course of its lifetime, the hotel became a temperance house. This change from tavern to temperance house may well have occurred during the Parsons' ownership. Joseph Parsons bought the property in 1854 for $7500. After he died in 1861, the title was passed to his daughter Anne. The building remained a hotel until 1883 when Mary and Alice Parsons, perhaps Anne's daughters, operated it as a boarding house until it was torn down in 1891, one year after the death of Mary Parsons. (Democrat & Chronicle, Foreman)"
About the building itself:
I do know that the current building was not there in the ealry 1920s, when Kodak tore down store fronts to make room for a six story warehouse that will be "modern in all equipment". (Per the Rochester Herald, August 12, 1923). (The facility I know was not six stories; what was "modern" in the 1920s might have still been there in the early 80s.)
A different structure is listed in the general area, but not identified as 54 Brown Street in the 1926 Plat map. It is occupied by Commercial Paper Box Co.
By 1930, the Plat map clearly shows 54 Brown Street, but doesn't identify the occupant in the 1930 and 1935 maps.
According to their own web site, the 54 Brown Street facility was used from 1947 to 1952 by the Rochester Drug Cooperative, Inc.
You can see a picture of the building, looking very much like what I remember from 35 years later. This is a view from Brown Street, as if you were standing on the sidewalk by Kodak Office; during More Candy days, the door seen was the door for the public to enter, go up the stairs, and visit our little retail shop to the right of the door. The parking lot is to the left of the building, and the employee door and loading docks are on that side. Chocolates and fudge were on the top floor; hard candies on the bottom floor; administration, shipping and offices on the middle floor.
The top floor of the building at 54 Brown Street evidenced the centralized warehouse engine, the axle that ran the length of the building from which belts hung to run heavy machinery, the axle turned run by water or steam or electricity. In the advent of electricity and steam, industry could start moving away from the High Falls district.
A large set of maps at the Rochester Public Library, showing More still at Mill Street, indicated that inhabitants of 54 Brown Street, other than Rochester Drug, included:
KEE-LOX WAREHOUSE: Kee Lox Mfg was a manufacturer of carbon paper, typewriter ribbons, ditto masters and related products. The timing I have found for Kee Lox (incorporated 6/8/1966 in FL and which went bankrupt 12/19/1974 having its assets purchased by Burroughs) are simply not consistent with More moving in in 1967.
After Kee-Lox, the map was updated to "Toy W. Ho." - may stand for Toy Warehouse?
Monroe County Records show Eastman Kodak granting the 54 Brown Street property to More Candy on October 11, 1978. However, the trademark documents already show the address as 54 Brown Street in the late 1960s, and the Polk guide listed More there as of 1967. I assume Kodak rented the facility to the owners between 1967 and 1978; this may coincide with the purchase of the company by Mr. Rook.
More Candy sold the property back to Eastman Kodak on December 6, 1983. In 1982, Mr. Rook began considering moving the operations from Rochester closer to Newark and Sodus, due in part to the long commute. I do not know if this move happened; the company was sold off at approximately that time, and the property/deed turned over to Kodak. Monroe County records show various activities about inventory, machinery, equipment and accounts on September 29, 1989 and then August 16, 1991 related to activities at a location in Jamestown, NY (*RE 809-811 N MAIN ST JAMESTOWN), so something must have survived until that time.
Ownership
Casaretti Family (1916 - 197?)
More candy was run by a single father/son team for 60 years. I am impressed.
The Casaretti family came to the US from Italy. It was a family of candy makers.
The NYS Department of Corporation's first listing of 1919 shows a contact name of David J. Casaretti - and he is well regarded as the founder of More.
About the Casaretti family - or should I say "Casaretto, Casarett, Casarettis or other varieties" family - a family member wrote:
"My maternal great grandfather, Nicola Casaretto or Casaretti came to Rochester, NY in 1869 from Chiavari, Italy. He had married Louisa Vacari also in 1869 (location not known). Louisa's mother was Thersa carsa, father was Jake Vacari. Nicola's brother Antonio came a few years later. Both brothers were or became candy makers in Rochester...very successfully. Nicola was born 10 Jan 1852 and Louisa 20 Oct 1852. Nicola and Antonio's parents were Luigi and Casaretti (o) and Katherine Sanguiri. abs. All name spellings are somewhat up for grabs!"
also
"I have been researching my family lineage for about 3 years. Casaretti is my grandmothers side. Her parents were Nicholas Casaretti and wife Luisa Vacari Casaretti. Per their death certificates both were born in 1852 and came to the USA in 1869, also the year they were married. Their brother, Anthony b. 1849 came to USA in 1887 with wife Maggie V? These two brothers were both candy makers and many of their children also became candy makers. They settled in the Rochester NY area. Their parents were Luigi Casaretti and Katherine Sanguiri.
All the death certificates say they were from Chiavari, Italy. Looking on a map, I found a hamlet a couple of miles outsde of Chiavari called Casaretti."
And from the 1900 Census:
"Name Age: Anthony Casaretti 51, Maggie V Casaretti 49, Louis J Casaretti 27, David Casaretti 21, George Casaretti 15, Theresa Casaretti 19, Verginia Casaretti 13, John Casaretti 5"
The 1920 US Census shows a Joseph Casaretti and a Charles Casaretti in the area; the only New York Casaretto was a much older man in Manhattan. However, David J and Joseph Casaretti are both listed as being affiliated with More Candy (listing the hotel at 89 North) in a Rochester Directory from 1920
So a Casaretti/o family of candy makers seems to have been engaged in More from its inception. Louis J and George are also listed in the 1920 directory as being confectioners at 64 Cummings, an address not associated with More.
In a Democrat and Chronicle article from October 5, 1958, much more of the history is shared:
Prior to founding More, David Casaretti was a superintendent for Weaver Costello (confections) in Pittsburgh. He wanted a business of his own, moved back to Rochester, and opened a retail store on North Street, for around five years. Then he leased the second floor of 32 Mill Street, closed his retail store, and devoted himself to wholesale manufacture.
I see an account that Captain Jacob. D. Scott was somehow associated with More Candy in the 20's, but don't have more than that.
Ray, David's son, joined the company in 1934 after graduating from Notre Dame University; Ray had originally wanted to be an architect. He learned the ropes from his dad, introduced machines (likely the same enrobers and other equipment I saw when I was there), and launched the cream and butter nut fudge that launched More into its wild profitability. Social security records indicate that Ray's birthday was 4/23/1912, so he was 22 when he started at More; that would put him at around 65 in 1977 - time to find a buyer so he could retire. Here's a PDF of an article about Ray's leadership from 1955
Douglas Lee Rook, Senior (197? - 198?)
That buyer was, as noted, Douglas Lee Rook, Senior, who took over the reigns in the late 70s.
Mr. Rook was at the time the mayor of Newark, NY; his wife, Pearl Newton Rook, was a poetess (per Mr. Rook) and former poetry editor for the Rochester, NY newspaper, the Democrat and Chronicle. Mrs. Rook was associated with Sarah Coventry Jewelry (of Newark, NY); I was told she was the "heiress to the Sarah Coventry fortune." I only know the name Sarah Coventry from the mention on game shows like "Let's Make a Deal" of Sarah Coventry Jewelry, which I have confused with the Spiegel catalog, often mentioned on those same shows, which was associated with the zip code of 60609 (Chicago). As of the time of this writing, Mrs. Rook is still living, to my understanding, and I mean all respect to her and her family.
I was told ownership of the company transferred from Senior to another candy company in 1983 or 1984, after I had left, and I am unaware of what happened to it after that; operations at 54 Brown Street ceased, the building/land sold back to Kodak in 1983. As noted above, public records show activities into 1989 and even 1991.
Management in the Rook years
Much of the success of More Candy Company in the 1970s is attributed to two powerful figures in the company.
First was the Controller, Tom Lenahan, who had the reputation as a "pinch the nickel until the buffalo sits down" guy. I am told that 1) he was there forever, 2) he was a no-nonsense kind of guy, but 3) one day he came in to work and during the day just keeled over, dead. It was only then that they found out he had been lying about his age; at 70 years old, he was quite a few years older than retirement age. I did not have the opportunity to meet Tom, having replaced his successor.
The plant manager, Gottfried Florian Hofer, was an old world confectioner; the colorful Scot, called "Flury", was known for his skills, ability to skillfully run a manufacturing facility, aphorisms and old-world charm, said aphorisms delivered in his inimitable brogue as cannot be expressed in text, such as "Shoogarrr's goood fer you" (Sugar is good for you) and "The only ones that like peanut butterrr are Amerrricans and elephants". (Please imagine the "r"s as deeply and vigorously rolled - butter almost becomes four syllables.) The man knew his sugar.
As the story goes, these two men ran the shop with an iron hand and made millions of dollars for Mr. Rook, who was at the time the Mayor of Newark, NY. When he left office, he began to show up at the plant, and some say the struggles really began then. Making things more of a challenge, Mr. Rook brought on his son, Douglas Lee Rook, Jr., to be a sales manager under some extraordinary conditions, best shared only privately and over adult beverages.. (An obituary for "Junior", as he was called, appears below.) It was my pleasure to accompany Junior on a sales trip - to what is now called the Philadelphia Candy, Gift and Gourmet Show, the largest trade show dedicated to the retail confectioner. Samples? I ate so much licorice I did not have to eat for days.
Another gentleman, whose name escapes me now, was brought on as a sales manager in charge of supermarkets/retail.
And I should not leave out More's external CPA, Nelson P. Maracle,who is responsible for getting me into the company in the first place.
Confections
Ah, the candy! I became incredibly discriminating during my time there - I could not eat a store bought piece of candy, as the best tasted stale compared to chocolates straight off the enrober. Everything was absolutely incredible ... except for some of the little disasters brought on by sales demands that didn't match with manufacturing realities.
Chocolates - how I loved the chocolates! The line card included everything you might expect - the creams, the caramels, the nuts. I loved the Pecandees and the chocolate covered cherries the best. We brought in 10 pound bars of Hershey's, melted it down and went on from there. (Buying one of the 10 pound bars and eating it at home by knocking off pieces with a hammer puts Chunkies to shame!)
Fudge - the mainstay of More for so many years, you poured a few pennies of materials into a 10 pound aluminum tray and it turned into gold. Delicious, and able to change people's minds where no monetary bribe would do.
Lollipops - If you equate lollipops with the small, round lollies that come in a continuous wrap, you have not had a lollipop. Using machines from Latini of Elmhurst, Il, these heavy weight, individually wrapped wonders had some real substance to them.
Hard candies - Another real money maker and part of what made More distinct. Lots of fruit and spice flavors, including the dreadful clove and horehound. We didn't sell much of the latter ... but the fact that we provided the latter was one of the reasons large stores would buy from us; they had diehard fans and didn't want to buy their candy from different sources.
Salt water taffy - All I can say is that it was the best I have had before or since.
Jellies - Do you like Chuckles? I loved Chuckles, and especially the licorice. When I came to More, it was in the height of food additives being outlawed; it was in 1976 that Red Dye #2 was banned by the Food and Drug Administration. Without it, foods that needed to be deep brown or black - like chocolate pudding or licorice - wind up looking green. No one wants to eat green licorice and/or chocolate pudding. Red Dye #40 was considered safe, but didn't hold up to the acid in More's pectin jellies. My crowning accomplishment while I was at More was finding a new food coloring that would let Flury create black licorice jellies again.
Other characters
During my tenure, the number of employees dropped from 40 to 16; however, every one of them was a character. To honor them all, I will leave the conflicts and big troubles to my upcoming book, "My Life as Willie Wonka, CPA".
John Ventura was the assistant plant manager. A young man when I was there, he was Flury's right hand man and a really great guy. He had to get his license to become an exterminator to deal with issues at the plant.
Audrey Lupes worked in the office taking orders, opening mail and generally helping out. She was in Sweet Adelines, so was obviously a gifted singer.
Don was the shipping clerk; he could have his own sit com; think about "Gary Unmarried", but 30 years later.
Beatrice was one of the candy makers, and ran the retail store
Other candy makers were likewise colorful in their own fashion, many having worked there for decades. We had all the characters, like the one who wanted time off because him mother had died (for the third time that year!)
Problems
Every change brings loss, even good ones. Mr. Rook's ideas on how to run a candy company and those of Flury and Tom were quite different. While differences in opinion can bring innovation, many thought that the very profitable Company didn't need to change - "if it ain't broke". With the death of Tom, bringing on Junior, bringing on the sales manager focused on supermarkets rather than traditional channels, tensions and difficulties arose. This on top of the changes of the FDA, changes in retail, changes all over.
Chief amongst the problems had to do with the fudge. Supermarkets wanted pre-packaged goods. Fudge was traditionally sold in large metal trays. To sell in the retail store, it was decided, to Flury's dismay, to pour fudge in 8 ounce plastic containers rather than 10 pound metal trays. The "magic" of fudge curing itself operates very differently in 8 ounce plastic containers rather than 10 pound trays; on top of that, it takes a lot more labor to fill 20 small trays than one large one; the effort was a disaster, bad product came flying back left and right, hand the extremely profitable fudge business was irreparably damaged.
The distance from Sodus to the city led Mr. Rook to change the five day, eight hour per day schedule to a four day, ten hour per day schedule, which did not go over well with the highly experienced but poorly paid work force. A decision to pick up the operation and move it to Sodus also did not go over well with the work force, which lived in the city.
Other memories of More Candy
Of the IBM 5120 computer we brought in to replace the manual ledgers and do invoicing and check printing. Thank you for that, Mr. Rook! I wrote a Basic program to sort check numbers for a check reconciliation process. Mind you, $13,500 for a computer and printer sounds like a lot now, but this was the lower-priced IBM computer to date.
Of watching from our windows a dozen Kodak employees watching one or two Kodak employees working, back in the days Kodak could be extravagant toward its employees. (Remember the days Kodak was called "Papa Box" and "The Great Yellow Father"?)
Experiencing Senior's plans to market chocolate covered cheese (the enrobing machines never recovered).
Working with different shipping companies such as Shuster, Flying Tigers and Pilot and hearing the joke about their merger to form Shoo-Fly-Pie.
Other candy companies in Rochester
Candy is a major source of pride in Rochester; the city claims that it is the home of the first commercial product of marshmallow, for example. Two other important companies are Fanny Farmer and Rcchester Candy Works.
Fanny Farmer
Only recently gone, another company started in Rochester, by Frank O'Conner and John D. Hayes, in 1919, was Fanny Farmer. It was my primary source for Almond Bark for years and year. It was sold off in 1992 to Archibald Candy Company; it was then purchased in 2004 by Alpine Confections, and as of May 2006 is owned by 1-800-FLOWERS!
Rochester Candy Works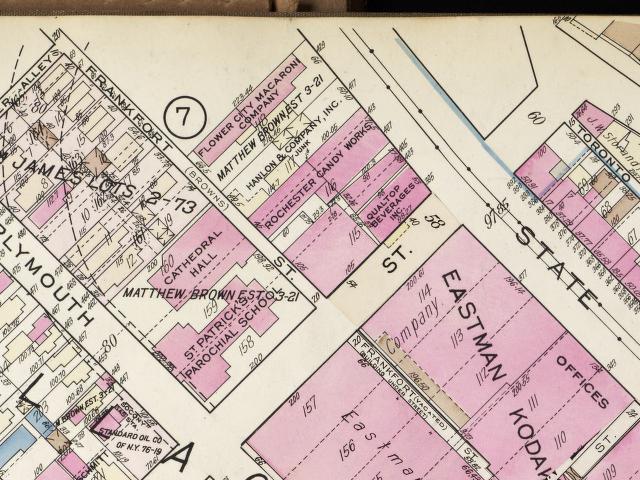 The history of Confections in Rochester and candy in the Brown and State Street area point to another company, Rochester Candy Works. My research thus far show it was started in 1868 by P. J. Costello and C. E. Harrah and was known as "P. J. Costello and C. E. Harrah -Manufacturing Confectioners" until they filed for the name Rochester Candy Works.
In 1888, the following was written of them:
Messrs. Castello & Harrah established the Rochester Candy Works something over two years ago, and have built up a large and flourishing trade extending throughout Western New York, adjacent portions of Pennsylvania and elsewhere. They occupy four floors, 28x128 feet, at No. 59 Mill street, where they conduct the largest exclusive wholesale candy works in Western New York, their machinery and appliances being of the latest improved patterns, and their force of operatives numbering eighty. Their great attraction is strictly pure confectionery of all choice kinds, their leading specialty being the manufacture of fine chocolates and bonbons, and the output is enormous, aggregating six thousand pounds daily for a month or so previous to Christmas, and for the present year will reach at least six hundred tons.
This is a Rochester enterprise exclusively, conducted by Rochester men, and a credit to the city. This is the only house west of New York city that pays special and particular attention to the making of high grade chocolates and bonbons, that department being under the personal supervision of a foreman who was ten years the manager of the largest chocolate manufacturing house of Cologne, Germany. To this statement of the business done by this prominent house, it is needless to add that their success is assured and their prospects most flattering.
"The industries of the city of Rochester: a résumé of her past history and progress", by Elstner Publishing Company (Rochester, N.Y.)
There is an indication that it was purchased by two other men named Griffith and Colebrook in 1893. In 1910, Rochester Candy Works filed for a trademark for the name "Delcara". This is more consistent with an Italian focus than the German focus mentioned in the discussion above; the gentleman tracking his genealogy thought that some Casaretti became involved in Rochester Candy Works at some point. This joined with "Royal" marshmallows.
An Ebay search has found advertisements for Rochester Candy Works and Delcara into the 1920s. The Plat maps list Rochester Candy Works on State Street - their building would be right behind the 54 Brown Street facility - in the 20s and 30s. The 1955 Democrat and Chronicle article speaks to its demise "during the depression" - not quite consistent with it still being identified with its structure in the 30s.
Other candy companies that are noted as being amongst the most prominent but gone due to the depression: O. T. Stacy, Whitles, Rochester Marshamallow and Worthmore.
Open questions
Why did they name it "More Candy Company"? Some Italian friends of mine guessed that the initial plan may have been to call it "Amore", and it got lost at the governmental office.
In Memoriam
David J. Casaretti, died ???
Ray Casaretti, Owner; born 4/23/1912, died 2/15/1995, age 82
Thomas Lenahan, Controller: born 6/3/1910, died August 1980.
Douglas Lee Rook, Sr, Owner: born 5/9/1924, died 1/6/1995 in Newark, NY. "Senior" served as Mayor of Newark, NY, defeating incumbent Democractic Mayor Nick Neuhard in 1977. He also co-authored, with wife Pearl, a book, "The Sound of Thought".
Gottfried F. (Flury) Hofer, Plant Manger: born 10/18/1932, date of death 5/14/1998 in Henrietta, NY
Rook, Douglas Jr., Sales Manager:Douglas Lee Rook Jr., 51, of Elmhurst, died suddenly at Elmhurst General Hospital, on November 15, 2003. Douglas was born June 27, 1952, the son of Douglas L. and Pearl N. Rook. He was predeceased by his father, and his grandparents, Mr. and Mrs. Leo Rook, and Mr. and Mrs. Paul D. Newton. He is survived by his daughters, Christina (Steven) Weaver of Rochester, and Allison Rook of Erie, PA; his mother, Pearl Rook of Newark; sisters Pamela (John) Martin, of Garner, NC, Sandra (Rev. German) Cruz of Newark; three grandchildren, J.D., Hannah, and Heather. Doug graduated from Newark High School in 1970, and from the University of Rochester in 1975. He worked in the confectionery trade for 35 years, first in the family business, More Candy Co. in Rochester, and recently with the Simply Lite Food Corp. of Commack, NY. He had developed several formulas for sugarless candies. Doug's hobbies included astronomy and sailing. Memorials may be directed to the Sodus Bay Historical Society, P.O. Box 94, Sodus Point 14555. Funeral services are tomorrow, November 22, 2 p.m. at St. Mark's Episcopal Church, 400 South Main St., Newark with the Rev. Herb Tietjen officiating. Burial will be in the Newton Cemetery, West Junius, New York following the service.
Version 100130.9